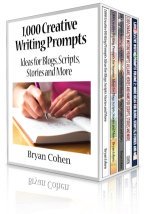 Writer's block stinks. Beat it forever for just $8.99
For the first time ever, you can get my ultimate collection of 5,000 creative writing prompts for over 25% off. The
1,000 Creative Writing Prompts Box Set
contains five books with over 150 five-star reviews.
Click the links below to get it before this deal runs out!
Amazon ->
http://bit.ly/noblockazon
Nook ->
http://bit.ly/noblocknook
Apple ->
http://bit.ly/noblockapple
Google Play ->
http://bit.ly/noblockgoogle
24 Hours of Silence
by Zara
(California)



It was your typical day I had got up and got my first cup of coffee and as I was getting ready for the day I was wondering to myself why on this day it was so quite because usually at about this time you would hear the loud roar of traffic and the kids playing outside because it was a warm summer day.

I went to the front door an opened it and there was not a soul to be seen anywhere I walked outside and looked up and down the block, There was nobody I walked a little down the street and all I could hear was the sound of the wind and it seemed to me it was howling starting to feel a little uneasy I ran back to the house and started to call people on the phone

As I dialed one number after another I was not getting an answer anywhere, I ran back outside and started screaming "hello can anybody hear me" no answer again I screamed "hello where are you people" still no one answered, Seeing a strange mist down the road I was a little bit curious of why it was just lingering in one spot when the wind seem to be blowing pretty strong.

So I yelled again "hello can anyone hear me?" still no answer then all of a sudden I seen the mist move and it was moving towards me, I got scared and started to run and the mist was getting closer and closer I did not know what to do or where to hide so I seen a car and the door of it was open I ran to the car and the keys were in it so I jumped in and I started the car and drove as fast as I could out of there.

I seem to have lost the mist for now anyway so I drove around to see what I could see, The further I got into town the situation seemed to get more and more scared I got cause you could see where the people had been but they were gone, There was not one person to be seen any where all I wanted to do was cry I wanted to see anybody I did not care who it was I just wanted to know I was not the only left.

All kinds of thoughts were going through my head so I parked the car so I could think I was tired the day was going into night and what the night would bring I did not have a clue, My eye's grew heavy and I fell asleep a deep sleep and the night was ticking away. All of a sudden something woke me it was the mist I seen and it was close coming at me like I was a treasure ready to be collected.

I tried to open the car door it would not open I was scared what do I do, Closer and closer it came and all of a sudden it was on me I started to feel weird and numb I was screaming "help somebody please help me" then all of a sudden the mist was in the car my skin was tingling I wante out of the car but the door was jammed, What do I do I couldn't think my mind was like it was not mine then I accidentally hit the horn of the car the mist went away poof like it was never there.

Then I realized it did not like the sound of the horn which was a good thing cause now I knew its weakness so I started the car and went to find a store that I could get into so I could get some things that I needed before I carried on further in trying to find someone other then myself and to see if I could get answers to what was going on.
Join in and write your own page! It's easy to do. How? Simply click here to return to Free Creative Writing Prompts #1.
Write a Story Based on These Prompts or This Article!
Use the above prompts or article as inspiration to write a story or other short piece.
What Other Visitors Have Said
Click below to see contributions from other visitors to this page...

My favourite childhood toy Not rated yet
When i was only five years old.i have a beautiful car.it has red and white colour.i ride it outside my house. i liked it very much ,one day i was in my …
There is no life without moves Not rated yet
I think movies and TV is an essential part of my life and it is hard to imagine life without movies, on one hand movies are a great source of entertainment …