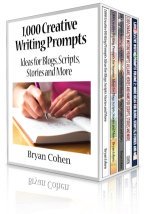 Writer's block stinks. Beat it forever for just $8.99
For the first time ever, you can get my ultimate collection of 5,000 creative writing prompts for over 25% off. The
1,000 Creative Writing Prompts Box Set
contains five books with over 150 five-star reviews.
Click the links below to get it before this deal runs out!
Amazon ->
http://bit.ly/noblockazon
Nook ->
http://bit.ly/noblocknook
Apple ->
http://bit.ly/noblockapple
Google Play ->
http://bit.ly/noblockgoogle
An awkward dance, but maybe for the better?
by Ashley
(California USA)
This happened only a few weeks ago. We have this dance called Military Ball put on by our ROTC program (which I am in). There has consistently been jokes, comments, and what not going on about me and this other guy in my grade (also in ROTC). Everyone says we are bound to be together, that we should date, we usually take it as a joke, but I can't help wondering if there is really anything there. Anyways, at the dance my friends thought it would be funny to make a bet. They told my "lover" that if two of our friends danced, he would have to ask me to dance. My friends being the wonderful friends they are, decided to pretend that they had danced and told the guy he had to ask me to dance. On the last slow song, he finally asked me to dance (sounds like the Lady Antebellum song Dancing Away with my Heart, but the similarities end there). Instead of me resting my head on his holder, or staring into his eyes longingly, or even chatting about an interesting topic, we danced fairly quickly with almost no conversation. When he first put his hands on me, he put them on my shoulders because he had never danced before. After I corrected him, he asked me simply, "so how are you?" and I answered simply, "good, and you?" He replies with "good" and that was the extent of our conversation. The remainder of the dance was spent staring just off to the side I the other person, and occasionally looking at them, but glancing away when the other looked. To make matters worse, several of my friends decided to take pictures of the fateful dance. Between the two lovers who would never admit their affections for the other. So now not only was I enjoying an awkward dance, but their are a handful of pictures floating around and people bring it up every now and then when he and I are in the room. So much for a fairy tale night...but on the plus side, he never denies it when people say we like each other. Maybe the dance helped in some small strange and twisted way.