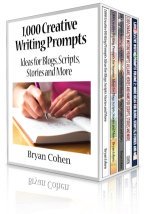 Writer's block stinks. Beat it forever for just $8.99
For the first time ever, you can get my ultimate collection of 5,000 creative writing prompts for over 25% off. The
1,000 Creative Writing Prompts Box Set
contains five books with over 150 five-star reviews.
Click the links below to get it before this deal runs out!
Amazon ->
http://bit.ly/noblockazon
Nook ->
http://bit.ly/noblocknook
Apple ->
http://bit.ly/noblockapple
Google Play ->
http://bit.ly/noblockgoogle
Asylum
by Aniyah
(Gothenburg, Sweden )
I could feel my shirt sticking to the small of back as the Sweat was covering my body like a blanket, but I didn't stop running. Something was chasing me and I had a felling it wasn't running out of breath like I was. Recently I got is emitted into an asylum because I was the Only person who cold see this awful creature. It was big in height. It eyes were like black pits filled with hatred. It was always there, always watching. People thought I was insane, but I knew it was there. I could feel it's presence it made the hair on the back of my neck stand up. It gave me an unsettling feeling in my stomach that never seams to go away. It won't go away m. I've tried. Soon it's going to be to late for escape. I have a feeling that I won't be the one to escape.