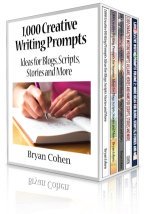 Writer's block stinks. Beat it forever for just $8.99
For the first time ever, you can get my ultimate collection of 5,000 creative writing prompts for over 25% off. The
1,000 Creative Writing Prompts Box Set
contains five books with over 150 five-star reviews.
Click the links below to get it before this deal runs out!
Amazon ->
http://bit.ly/noblockazon
Nook ->
http://bit.ly/noblocknook
Apple ->
http://bit.ly/noblockapple
Google Play ->
http://bit.ly/noblockgoogle
Bay to Brah
by Hansberry Pierre
(Winter Haven, Florida, United States)



I started having a habit of saying, "brah," referring to people. It a habit that started with another habit. My other habit was to say, "bay," a lot, which refers to people also, but this habit started with a me. I made the word and the definition up, I wanted to spread the usage of the world, in hope it makes it in a dictionary, but only a couple of people use it.

Then there was a new hot word out, that what my friend said. I didn't like the word, "brah" at first, but over time I came ill with this epidemic, to long time exposure to the word, "brah". At first I felt guilty, because I did not want my friend to think that I a copycat that change it face. I felt once as if I had robbed my friends slag and use it as mine.