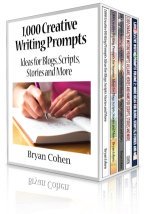 Writer's block stinks. Beat it forever for just $8.99
For the first time ever, you can get my ultimate collection of 5,000 creative writing prompts for over 25% off. The
1,000 Creative Writing Prompts Box Set
contains five books with over 150 five-star reviews.
Click the links below to get it before this deal runs out!
Amazon ->
http://bit.ly/noblockazon
Nook ->
http://bit.ly/noblocknook
Apple ->
http://bit.ly/noblockapple
Google Play ->
http://bit.ly/noblockgoogle
Blog Tour for
Ted Saves the World

Ted Saves the World is a 20,000 word novella focusing on the story of Ted Finley and his rise to high-school superheroism. In order to promote the book, I have started a four-week blog tour for Ted starting July 15, 2011 and going through August 11th. Here is a list of all the blogs participating. Feel free to follow around as I talk about my influences, my writing habits, the characters in the book and all sorts of other tasty blogging tidbits.
In addition, you can enter as many times as you'd like to win one of four $25 gift cards (I will be giving away one for each week of the tour). I'll add a fifth gift card to the pot if the book reaches the Amazon Top 100 in sales at any point during the tour. Without further adieu, click away!
(links will become active when the posts are up!)

July 15: Makobi Scribe
July 16: Paranormal Opinion
July 17: Mary's Books Blogger
July 18: One A Day YA
July 19: Pretty Opinionated
July 20: M.S. Scott Fiction
July 21: FWIW Reviews
July 22: YA Book Lover Blog
July 23: Read for Your Future
July 24: Ednah Walters' Blog
July 25: The Irish Banana
July 26: A Cozy Readers Corner
July 27: Jessie Harrell's Blog
July 28: Jennifer Hubbard's Blog
July 29: Becky's Barmy Book Blog
July 30: Bitten Books
July 31: 24/7 Book Cafe
August 1: Lori Calabrese's Blog
August 2: Tiger's All Consuming Books
August 3: Anne K. Albert's Blog
August 4: I'm a Book Shark
August 5: Reading Away the Days
August 6: Sugar Beats Books
August 7: Jamie's Precious Peas
August 8: Reading Lark
August 9: Martha's Bookshelf
August 10: Workaday Reads
August 11: Home Between Pages
Done with Blog Tour for Ted? Go back to the Home Page. 
comments powered by
Written by Bryan Cohen
Bryan Cohen is the author of more than 30 books, many of which focus on creative writing and blasting through that pesky writer's block. His books have sold more than 20,000 copies. You can find him on Google+ and Facebook.
Write a Story Based on These Prompts or This Article!
Use the above prompts or article as inspiration to write a story or other short piece.