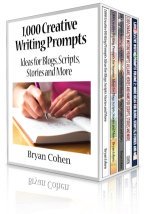 Writer's block stinks. Beat it forever for just $8.99
For the first time ever, you can get my ultimate collection of 5,000 creative writing prompts for over 25% off. The
1,000 Creative Writing Prompts Box Set
contains five books with over 150 five-star reviews.
Click the links below to get it before this deal runs out!
Amazon ->
http://bit.ly/noblockazon
Nook ->
http://bit.ly/noblocknook
Apple ->
http://bit.ly/noblockapple
Google Play ->
http://bit.ly/noblockgoogle
A List of Bryan Cohen Books

Books on writing ideas and motivation by Bryan Cohen available in PDF e-book format, giving writing prompts, motivational essays and helpful tips and tricks. 

Pre-Order The Post-College Guide to Happiness in Kindle, Nook, PDF and paperback form!

1,000 Creative Writing Prompts: Ideas for Blogs, Scripts, Stories and More

Sharpening the Pencil: Essays on Writing, Motivation and Enjoying Your Life

500 Writing Prompts for Kids: First Grade through Fifth Grade

Writer on the Side: How to Write Your Book Around Your 9 to 5 Job 
comments powered by
Written by Bryan Cohen
Bryan Cohen is the author of more than 30 books, many of which focus on creative writing and blasting through that pesky writer's block. His books have sold more than 20,000 copies. You can find him on Google+ and Facebook.
Write a Story Based on These Prompts or This Article!
Use the above prompts or article as inspiration to write a story or other short piece.