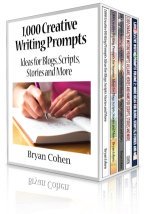 Writer's block stinks. Beat it forever for just $8.99
For the first time ever, you can get my ultimate collection of 5,000 creative writing prompts for over 25% off. The
1,000 Creative Writing Prompts Box Set
contains five books with over 150 five-star reviews.
Click the links below to get it before this deal runs out!
Amazon ->
http://bit.ly/noblockazon
Nook ->
http://bit.ly/noblocknook
Apple ->
http://bit.ly/noblockapple
Google Play ->
http://bit.ly/noblockgoogle
Cassava Delivery (Outside Chicago)

Select the number of empanadas or rolls you'd like from the following options. To qualify for $9 shipping, your order must be $50 or more. If you are ordering inside the Chicago area, please visit our
Chicago page
. For larger or smaller orders of empanadas and rolls, call us at 773-857-3039 or e-mail us info@cassavachicago.com. Thanks!
comments powered by
Written by Bryan Cohen
Bryan Cohen is the author of more than 30 books, many of which focus on creative writing and blasting through that pesky writer's block. His books have sold more than 20,000 copies. You can find him on Google+ and Facebook.
Write a Story Based on These Prompts or This Article!
Use the above prompts or article as inspiration to write a story or other short piece.