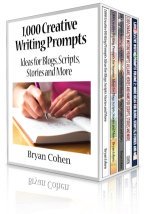 Writer's block stinks. Beat it forever for just $8.99
For the first time ever, you can get my ultimate collection of 5,000 creative writing prompts for over 25% off. The
1,000 Creative Writing Prompts Box Set
contains five books with over 150 five-star reviews.
Click the links below to get it before this deal runs out!
Amazon ->
http://bit.ly/noblockazon
Nook ->
http://bit.ly/noblocknook
Apple ->
http://bit.ly/noblockapple
Google Play ->
http://bit.ly/noblockgoogle
Evil Stranger
by Connie
(Holland, Ohio, USA)



He glances around furtively, and before I can react, he grabs the front of my jacket and shoves me down, hard. Several people stop and look, but upon seeing the gun, they move away to the other end of the platform en masse. I fumble for my cell phone, but the stranger with the gun sees what I?m doing and, in a voice that makes my blood run cold, he tells me that there is no one left to call.

I cannot comprehend what is happening but clearly, this man intends to kill me. He steps back, takes aim and fires. I feel intense pain, and then I feel nothing at all. He bends down next to me looks deep into my eyes. A shudder of recognition bursts from the depths of my soul. This man was no stranger asking for money. This man was never to see the light of day again but somehow here he was. As I lay there on the platform, I realized he shot me not with a bullet but with a paralyzing drug. I realize something else too. Although I could not move, I could see, but worse than that, I could hear. I hear the whistle of the approaching train, and then I see the man?s face. The evil smile that filled my nightmares was now upon me once again. He reaches down and effortlessly picks me up and hurls me into the path of the oncoming train. A final roar of engines meet with the horrified expression of the conductor as I close my eyes and felt nothing more.