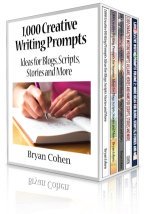 Writer's block stinks. Beat it forever for just $8.99
For the first time ever, you can get my ultimate collection of 5,000 creative writing prompts for over 25% off. The
1,000 Creative Writing Prompts Box Set
contains five books with over 150 five-star reviews.
Click the links below to get it before this deal runs out!
Amazon ->
http://bit.ly/noblockazon
Nook ->
http://bit.ly/noblocknook
Apple ->
http://bit.ly/noblockapple
Google Play ->
http://bit.ly/noblockgoogle
Happy 65th!
by Phil Gibson
(Alden, Mi USA)



For my 65th birthday, my daughter and son in law asked me to come over so that they could take me out to dinner. When I got to their house, they asked me in. I noticed that the door to the kitchen was closed. They gave me a card and a gift. The card was my favorite type of card. On the front was a picture of a bull dog, with the caption, "It's official." I opened the card and it said, "You're old as poop!" I showed the card around and we all got a good laugh.

As I unwrapped the gift I could see that it was something made of pink nylon webbing. What, I wondered, could they have possibly found for me that was pink nylon webbing. Before I finished opening the gift, my daughter opened the kitchen door. Out came bounding a beautiful fawn colored eight week old Pit Bull puppy. She ran across the crowded room directly to me, passing my daughter, son-in-law, grandson, granddaughter, their miniature Doberman and my wife. The puppy jumped in my lap. Everyone laughed as the puppy licked my face. We made a good pair! Instead of going out for dinner, we ordered pizza and stayed with the puppy.