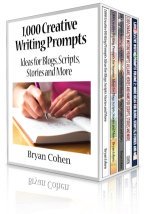 Writer's block stinks. Beat it forever for just $8.99
For the first time ever, you can get my ultimate collection of 5,000 creative writing prompts for over 25% off. The
1,000 Creative Writing Prompts Box Set
contains five books with over 150 five-star reviews.
Click the links below to get it before this deal runs out!
Amazon ->
http://bit.ly/noblockazon
Nook ->
http://bit.ly/noblocknook
Apple ->
http://bit.ly/noblockapple
Google Play ->
http://bit.ly/noblockgoogle
How I love spring!
by kathy brubaker
(flintstone maryland, usa)
Spring is my favorite time of the year. It is a season of new life and new beginnings. It is so exciting to see the grass begin to turn green and the leaves begin to bud. It seems like time is on fast forward because things seem to change hourly in the springtime. What I love most about spring is when the trees begin to bloom. I think the most beautiful thing I have seen are the Eastern Redbud trees in western Maryland. The blooms are a glorious purplish-red color and they dot the landscape all over the mountains. These are closely followed by the flowering sarvis trees, plum, crab apple, cherry, and dogwood. The woods are an explosion of color and it is such a joy to see after the long gray days of winter. Of course we can't forget the flowers that bloom in the spring either. Those first brave crocuses followed closely by the hyacinth, tulips, and daffodils. Even when the grass is still brown and dead looking, these beautiful flowers bravely push their way through the earth, sometimes even in the snow. The birds have a different song in the springtime, and that just adds to the beauty of the season. They sound so happy to be alive. We hang up our feeders and anxiously await the return of the hummingbirds. They are also a joy to see shimmering and dancing in the sunlight as they perform their aerial aerobics. I sit on the deck and look out over the mountains and marvel at the colors, sights, and smells of spring. I know that it is here for a short time and will give way to the hot, humid days of summer, but I try to stretch out the wonder and enjoyment of each day and marvel at the beauty that God has wrought.