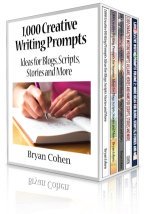 Writer's block stinks. Beat it forever for just $8.99
For the first time ever, you can get my ultimate collection of 5,000 creative writing prompts for over 25% off. The
1,000 Creative Writing Prompts Box Set
contains five books with over 150 five-star reviews.
Click the links below to get it before this deal runs out!
Amazon ->
http://bit.ly/noblockazon
Nook ->
http://bit.ly/noblocknook
Apple ->
http://bit.ly/noblockapple
Google Play ->
http://bit.ly/noblockgoogle
Last Day by Ken Duncan
by Ken Duncan
(Knoxville, Tennessee)



I awoke somewhat confused by the light streaming in my bedroom window. My first thought was "holy crap I'm late for work!" and then I remembered the news I got from the doctor yesterday. Twenty-four hours to live! The words echoed through my mind again and again. What do you do with 86400 seconds when you know they are the last ones you have here on earth?

I leapt from the bed knowing I had already killed 5 hours sleeping! As I was throwing on my sweats I realized just how much I had not thought about where and how I would spend my last minutes on this planet. Knowing I was certainly not going to waste any more time I went out my front door with a pop tart and coke in my hands. Pop tart and coke! What did I care about weight gain I was going to be dead by midnight? I jumped in my car and pulled out of my driveway headed for the interstate. My mind was racing as I headed up the on ramp into town. Thankfully I had slept through rush hour so traffic was light. Still with mere hours to live I was not going to follow any speed limits on the way to my destination. As I passed the car on my right I noticed he was going the wrong way! Looking ahead I saw the grill of a 1998 Ram pickup truck just as it hit my car…

I came to on a grass covered field with the prettiest blue sky above you have ever seen. I sat up and looked to my right and there sat one of the most handsome men I have ever seen in my life. He looked at me and said with a grin…"Welcome to Hell!"

Join in and write your own page! It's easy to do. How? Simply click here to return to Free Creative Writing Prompts #1.
Write a Story Based on These Prompts or This Article!
Use the above prompts or article as inspiration to write a story or other short piece.
What Other Visitors Have Said
Click below to see contributions from other visitors to this page...

My favourite childhood toy Not rated yet
When i was only five years old.i have a beautiful car.it has red and white colour.i ride it outside my house. i liked it very much ,one day i was in my …
There is no life without moves Not rated yet
I think movies and TV is an essential part of my life and it is hard to imagine life without movies, on one hand movies are a great source of entertainment …