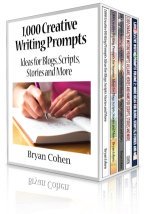 Writer's block stinks. Beat it forever for just $8.99
For the first time ever, you can get my ultimate collection of 5,000 creative writing prompts for over 25% off. The
1,000 Creative Writing Prompts Box Set
contains five books with over 150 five-star reviews.
Click the links below to get it before this deal runs out!
Amazon ->
http://bit.ly/noblockazon
Nook ->
http://bit.ly/noblocknook
Apple ->
http://bit.ly/noblockapple
Google Play ->
http://bit.ly/noblockgoogle
Making Mom's Day Special.
by Mary
(Bay City Michigan)
My fondest memories of Mother's Day involve my mother, even though I've been a grandmother for over 10 years. Mother's Day is a day of giving, showing your mother how much you care, how special she is to you, so it's important that children are an active part in this day. For dad to pick out a gift and just hand it to the child to give mom cheats both mom and her child. The gift doesn't have to be extravagant or expensive but it should come from the heart. The sweetest gifts are simple, given with a child's love. Whatever gift a family decides to give to mom needs to have the children involved in every aspect from deciding on the gift, going to pick it out, wrapping, getting a card and presenting. A simple piece of jewelry, flowers, candy, or even a photo of the child she's never seen presented in a beautiful frame will please mom and the child. I was taught to stay away from any gift that represented work such as appliances or kitchen items. Gifts that are personal such as cologne, bubble bath, or a nice robe add a bit of luxury for mom. Making the day special for mom will create memories for everyone. Taking mom out for lunch or dinner or even making meals for her on her special day will be fun for everyone so long as you don't expect mom to clean up afterwards. This is her day after all! A meal should be an additional treat on this day but not the only gift if possible. If money is an issue and the family cannot afford to spend anything on mom then children should be encouraged to be creative. Making a special video about how much mom means will please any mother and it will be a gift she will treasure always. Crafts that mom can use such as beaded jewelry or a handmade clay pot to put flowers in can be special too. The bottom line is that mom feels how much she is loved and appreciated and the children feel the gratification of expressing that love.