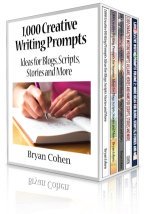 Writer's block stinks. Beat it forever for just $8.99
For the first time ever, you can get my ultimate collection of 5,000 creative writing prompts for over 25% off. The
1,000 Creative Writing Prompts Box Set
contains five books with over 150 five-star reviews.
Click the links below to get it before this deal runs out!
Amazon ->
http://bit.ly/noblockazon
Nook ->
http://bit.ly/noblocknook
Apple ->
http://bit.ly/noblockapple
Google Play ->
http://bit.ly/noblockgoogle
My Family
by Trey
(Decatur, TX)



I have 6 members in my family. My mom is 39,and she works at Young Elementary and she has 12 kids in her class.And Young Elementary is a school. My dad is 38,and he works at Poco grafite and it's a construction place. My sister's 12, she goes to the Middle school and she's in 6th grade. I'm 7 and I go to Young Elementary, I'm in 2nd grade. My brother is 5 and he goes to Young Elementary too, and he's in kindergarten. My dog is 2 but in dog years he's 17 and he's a boxer. And that's my family.