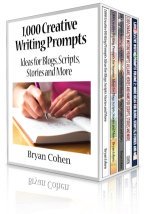 Writer's block stinks. Beat it forever for just $8.99
For the first time ever, you can get my ultimate collection of 5,000 creative writing prompts for over 25% off. The
1,000 Creative Writing Prompts Box Set
contains five books with over 150 five-star reviews.
Click the links below to get it before this deal runs out!
Amazon ->
http://bit.ly/noblockazon
Nook ->
http://bit.ly/noblocknook
Apple ->
http://bit.ly/noblockapple
Google Play ->
http://bit.ly/noblockgoogle
My Son, a beautiful gift to me
by asia
(mississauga, ontario, canada)
Some moments are just unforgettable- they live within you.

Some times are just hilarious- they make you smile everyday when remembered.

Some people are just wonderful and gentle- you want them with you all the time, under all the circumstances………Yes, this is my SON, who makes every 'moment' memorable, every 'time' filled with joy by being there and making me feel most beautiful and strong mother-----Happy Birthday to my son and all the best wishes and blessings to you!!!!