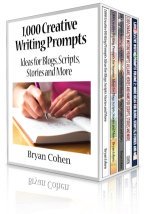 Writer's block stinks. Beat it forever for just $8.99
For the first time ever, you can get my ultimate collection of 5,000 creative writing prompts for over 25% off. The
1,000 Creative Writing Prompts Box Set
contains five books with over 150 five-star reviews.
Click the links below to get it before this deal runs out!
Amazon ->
http://bit.ly/noblockazon
Nook ->
http://bit.ly/noblocknook
Apple ->
http://bit.ly/noblockapple
Google Play ->
http://bit.ly/noblockgoogle
Our Glorious Labor Day
by C. Edward Royce
(Chicago, Ill U.S.A.)
"OUR GLORIOUS LABOR DAY".

What Labor Day Means And The Hard Work It Took To Get Us There!.......

You know its really neat to have the day off and how all of us look forwards to the cookout and being able to spend some personal time with family and friends and we all know how much our quiet time means to all of us and thats how it should be, But it wasn't always that way?.

After all its easy to remember the earlier Labor Days like the old folks often told us about:

Like the Farmer who was chased away from Sunday Market because he refused to pay street tax, Or the Secretary who was suddenly laid off because her hair got a bit gray, And yes lets look at all the line workers who were let go because they refused to accept pay cuts with no insurance or benefits to boot and last but not least we should always remember and never forget the countless workers who'd marched right through the Guard Line, Or who stood cold and jobless in the rain demanding better job conditions and remain yet unsung and unheralded and having to fight off 'Labor Goons' as well but who in their own way and with hard sacrifice firmly stood not just for more pay but also for 'Liberty and Justice' for us all as the struggle they made and the hard won battles they fought both for Labor and for America and our great nation means we not only have decent work conditions today but also that we can take this day off and tomorrow we will have a job to go back to myself included!.....

And it was all the harder for most of their struggle was waged in peacetime and far away from foreign shores, But their quiet struggle was just as important as those waged at Bunker Hill or the men who rushed the shell riddled beach at Normandy for while the soldiers kept the nation free the 'workers fought' to insure that the 'fighting men and women' would still have a 'decent country' to return to after their Battle ended so it that light its easy to see the 'real value' to all of us:

For Human Dignity, Freedom and the Rights of Man are the real prizes of Labor Day!.........

By: C. Edward Royce.


Products You Might Enjoy


Join in and write your own page! It's easy to do. How? Simply click here to return to New SBI C2.0 Invite.
Write a Story Based on These Prompts or This Article!
Use the above prompts or article as inspiration to write a story or other short piece.
What Other Visitors Have Said
Click below to see contributions from other visitors to this page...

My favourite childhood toy Not rated yet
When i was only five years old.i have a beautiful car.it has red and white colour.i ride it outside my house. i liked it very much ,one day i was in my …
There is no life without moves Not rated yet
I think movies and TV is an essential part of my life and it is hard to imagine life without movies, on one hand movies are a great source of entertainment …