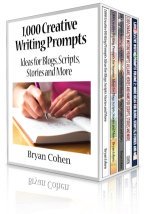 Writer's block stinks. Beat it forever for just $8.99
For the first time ever, you can get my ultimate collection of 5,000 creative writing prompts for over 25% off. The
1,000 Creative Writing Prompts Box Set
contains five books with over 150 five-star reviews.
Click the links below to get it before this deal runs out!
Amazon ->
http://bit.ly/noblockazon
Nook ->
http://bit.ly/noblocknook
Apple ->
http://bit.ly/noblockapple
Google Play ->
http://bit.ly/noblockgoogle
Realizing My Mother and Father Were Not Normal
by Samantha
(Youngstown, OH U.S.)



When everyone's young, they think their parents are normal, and everything great in the world. Then you reach an age where you know right from wrong, and you know things are not always normal that they might be doing, and you know that some things are not right, or could be done better. At a young age I was exposed to my mother being a drug addict. When your young and your raised a certain way, no matter which way you are raised, you still think even abnormal things are normal, because that was the way you were raised, and I thought what she was doing was perfectly normal, and a way of life. My father taught us that it wasn't, and I'm glad we had him around to teach us right from wrong, or else maybe we would be the same way.

When I turned 12 I found out my dad was gay, and that everything told to us when we were younger was a lie. I realized that was not normal, and for a while I was very confused of who to believe and what is normal or not. It was hard to cope with and deal with. After a while I realize that no parent is normal, and no parent is perfect. I don't think anyone is perfect. And everyone does make mistakes. Today my mom is sober, and a great mother. And my dad is open with his sexuality and very considerate to our feelings in telling the truth. He is everything to me, and I know I'm everything to him. I love my parents, they have taught me everything I know, and they are the reason why I am a great person, and mother today! No parent is perfect, or normal. But if they love you, that's all you need, and that's all that really matters.