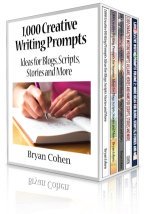 Writer's block stinks. Beat it forever for just $8.99
For the first time ever, you can get my ultimate collection of 5,000 creative writing prompts for over 25% off. The
1,000 Creative Writing Prompts Box Set
contains five books with over 150 five-star reviews.
Click the links below to get it before this deal runs out!
Amazon ->
http://bit.ly/noblockazon
Nook ->
http://bit.ly/noblocknook
Apple ->
http://bit.ly/noblockapple
Google Play ->
http://bit.ly/noblockgoogle
Revealing the Truth
by Christina Fowler



The day that I realized Santa Claus did not exist was not a very momentous occasion for me. It was the middle of summer when I, matter of factually, confronted my mother. I almost told her, instead of asking, that Santa was not real and waited for her to confirm this, which she did. There was no huge let down, no sense of being bamboozled or lied to for years, but more of an understanding of all that my parents went through to make each Christmas special without asking for, or expecting anything in return. After coming to this revelation, I then decided to share my newfound knowledge with my best friend, who also happened to be my next-door neighbor and cousin. Still being young and naive, it did not occur to me that her being two years younger would make her take this huge revelation differently than myself. Unfortunately, she did not understand the sacrifice of her parents, nor why I was so happy and proud to have learned this. As she went running to her mother to ask if it was true, I learned a valuable lesson, not everyone can handle the cold hard truth. Revealing truths that have been long hidden should be handled with care as not everyone is ready or willing to accept reality yet.