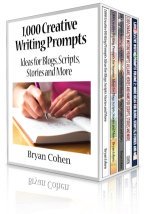 Writer's block stinks. Beat it forever for just $8.99
For the first time ever, you can get my ultimate collection of 5,000 creative writing prompts for over 25% off. The
1,000 Creative Writing Prompts Box Set
contains five books with over 150 five-star reviews.
Click the links below to get it before this deal runs out!
Amazon ->
http://bit.ly/noblockazon
Nook ->
http://bit.ly/noblocknook
Apple ->
http://bit.ly/noblockapple
Google Play ->
http://bit.ly/noblockgoogle
The Livin' Isn't So Easy
by Joseph Taylor
(Greensboro, NC, 27403)
George Gershwin claims that the livin' is easy in the Summertime, but I disagree. In today's society, depending on your age and status and location, Summer can mean a lot of different things. For me and for many other 19 year old college students, Summer is bittersweet. It is a getaway from the hustle and bustle of school work and studies, but it is also a time of laziness, guilt, and lethargy if misused. I unfortunately, have fallen victim to this. Not only do I need several jobs to pay for my rent, but when I am not working during the Summer, I am being lazy and eating too much and drinking too much soda. I spend my free time sitting around with my dog and girlfriend watching movies, smoking things I shouldn't probably be smoking, drinking things I probably shouldn't be drinking, and doing things my body doesn't necessarily thank me for in the long run. For many, this life is "easy", but it is ironic that such easy living can produce such stress in some ways. For some, Summer is the antithesis of 'easy livin'. For some, Summer is simply a continuation of the miserable, exhausting, deprived, and poverty stricken lives that many on this planet lead. Until we can all live at peace and find happiness and security, no season will be 'easy livin'.