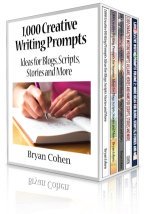 Writer's block stinks. Beat it forever for just $8.99
For the first time ever, you can get my ultimate collection of 5,000 creative writing prompts for over 25% off. The
1,000 Creative Writing Prompts Box Set
contains five books with over 150 five-star reviews.
Click the links below to get it before this deal runs out!
Amazon ->
http://bit.ly/noblockazon
Nook ->
http://bit.ly/noblocknook
Apple ->
http://bit.ly/noblockapple
Google Play ->
http://bit.ly/noblockgoogle
The Weirdest Person I Know
by Brenda
(Yorba Linda)
Some dads have the image of being rugged and outdoorsy. My dad is somewhat like that. He grew up in Florida, a place known for its lakes, swamps, ponds, beaches, and just all around water. He's an excellent swimmer, knows how to fish, and can play just about any sport outdoors or indoors. He was also in the marines, so he knows quite a bit about how to survive outdoors or in any circumstance. My dad is one of the weirdest people I know. Actually, he's definitely the weirdest person I know. While being the quintessential manly man with minimal complaints about anything, no sign of pity or sympathy, and the ability to run on no sleep or food, my dad is a slight germophobe. He carries wipes with him everywhere, he avoids malls and amusement parks during the wintertime to avoid catching wintertime bugs, and he constantly washes his hands. He is also easily disgusted at the mention of excretion of any kind and at the release of bodily gases. I have never heard him burp, and I've only heard him fart once...in his sleep...but I'll never tell him that. Another thing I've never heard him do is curse, but then again, talking is not his forte. It's actually quite the opposite. He keeps talking to a minimum with most of his communication through faces and gestures. My dad is also the most selfless person that I know. He goes the extra mile to do for others before he does for himself. He constantly helps other people and keeps their best interests at heart without asking for anything in return other than their own willingness to help themselves. He's resilient, he's forgiving, he's stubborn and unrelenting, and I couldn't ask for a better father. He's definitely set the standard pretty high for what my future husband should look like, but I know that when my future husband comes, he'll have to be firm, resilient, hard-working, selfless, and he'll have to cook...just like my daddy: the weirdest person I know.