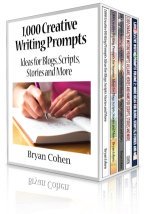 Writer's block stinks. Beat it forever for just $8.99
For the first time ever, you can get my ultimate collection of 5,000 creative writing prompts for over 25% off. The
1,000 Creative Writing Prompts Box Set
contains five books with over 150 five-star reviews.
Click the links below to get it before this deal runs out!
Amazon ->
http://bit.ly/noblockazon
Nook ->
http://bit.ly/noblocknook
Apple ->
http://bit.ly/noblockapple
Google Play ->
http://bit.ly/noblockgoogle
Understanding the Art of Cooking with Special Emphasis on Knowing the Basics.
by Ann Dilys
(Port of Spain, Trinidad)



A building is as good as its foundation. One cannot endeavor to be a great chef without the true knowledge of

What is required for growth and development?
Many an aspiring Chef sometimes feel that those lonely moments, or those so called dead-man shifts that seek to truly cement virtues of greatness are avoidable

Call it what you want the true success stories are born in fire and with the bruises of accomplishments are very evident.