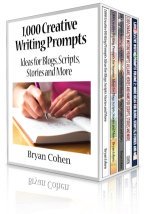 Writer's block stinks. Beat it forever for just $8.99
For the first time ever, you can get my ultimate collection of 5,000 creative writing prompts for over 25% off. The
1,000 Creative Writing Prompts Box Set
contains five books with over 150 five-star reviews.
Click the links below to get it before this deal runs out!
Amazon ->
http://bit.ly/noblockazon
Nook ->
http://bit.ly/noblocknook
Apple ->
http://bit.ly/noblockapple
Google Play ->
http://bit.ly/noblockgoogle
Chilling Out
by Tracy
(New Carrollton, MD)
This summer my family has given me permission to pick up all the food that I would like to share with them and our neighbors for one of the many barbecue's that we will have for this summer. What a great decision, it's my time to choose. Now I have to take into consideration that this person don't like pork, this sister is only going to eat vegetables and this one want to know what is in everything. Next year I am going to tell everybody, I love you all dearly but "please bring your own baskets." Yes, indeed. Half the children can't eat this, and the other half can't eat that. Give me a break. I ate everything when I was a child. That's too much for me to have to be worrying about. Oh well, I have decided that I must do my job and consider everybody, because after all this is all about fun. I want to purchase fresh meats, not that many because after I look at all of the grease and fat that comes off of that food, even I have to start changing the way that I am consuming food. I am big enough..Can't let not more meat get on these bones. So for meats, I am going to purchase hot dogs (beef and chicken). Of course, hamburgers (fresh and patties) what is a barbecue without a delicious hamburger with lettuce, tomato, onions, mayo, cheese, mustard or ketchup. I can taste that hamburger already. Party time, here we come. Okay, a few steaks will be good, ribs and chicken. You can't have a barbecue without some barbecue ribs...hhhhmmmm good. So now we need to get the condiments. I am going to get some corn, I love corn. Pick up some vegetables and a fruit trays. They come already prepared and that will give me some time to enjoy my company and have a good time. That's what summer and everyday is all about, living your life and being with your family and friends. Okay, I need refreshments, water, sodas and a few snacks. That should do it, I think I have covered all of the areas for an exciting neighborhood barbecue and this is going to be a huge success. I see some of the people coming over already. I am glad that I shopped and prepared the night before. These people are not playing. They definitely like to eat and I want to make sure that I have more than enough food to go around. Alright people, let's get this barbecue started right.