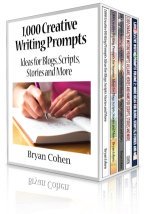 Writer's block stinks. Beat it forever for just $8.99
For the first time ever, you can get my ultimate collection of 5,000 creative writing prompts for over 25% off. The
1,000 Creative Writing Prompts Box Set
contains five books with over 150 five-star reviews.
Click the links below to get it before this deal runs out!
Amazon ->
http://bit.ly/noblockazon
Nook ->
http://bit.ly/noblocknook
Apple ->
http://bit.ly/noblockapple
Google Play ->
http://bit.ly/noblockgoogle
Free Creative Writing Prompts #78: Independence Day
While I've previously written a page of free creative writing prompts for Independence Day, I figured I'd share these new elementary school prompts that will be a part of a new workbook series. I love the 4th of July with a passion and have had some great memories on this colorful holiday. I hope that this set of prompts can inspire some great creative writing on this barbecue and patriotism centered holiday! 

Free Creative Writing Prompts: Independence Day
1. Create a made-up 4th of July story using the following words: fireworks, summer, hamburgers and independence.
2. What do you think our founding fathers like George Washington would think about the modern-day Independence Day? What would they like about it and what would they dislike?
3. Why do you think Independence Day is important? Do you and your family do anything special to celebrate the holiday? Why or why not?
4. Imagine a 4th of July barbecue with all of your friends and family. Who would be there, what would you eat and what would you do for fun?
5. You are an American flag flying proudly above the town at the top of a flag pole. How do you feel on Independence Day and do you do anything special during the holiday?
6. You have been picked to march in a national 4th of July parade! Why were you picked for this special honor? What is it like being the center of such patriotic attention?
7. Describe the best fireworks display you've ever seen. What were the sights, sounds and smells surrounding the colorful event?
8. Who do you think deserves the most credit on the 4th of July for helping to make the country an independent nation? How do you honor these important people?
9. What do you think is the most essential 4th of July food and why is it so important? How would the holiday change without that special food item?
10. Different countries around the world have been independent much longer than the United States. How do you think the country will change in the next hundred or thousand years? 

Done with Free Creative Writing Prompts about Independence Day? Go back to Creative Writing Prompts. 




Related Articles to Free Creative Writing Prompts 


Related Products to Free Creative Writing Prompts 

comments powered by
Written by Bryan Cohen
Bryan Cohen is the author of more than 30 books, many of which focus on creative writing and blasting through that pesky writer's block. His books have sold more than 20,000 copies. You can find him on Google+ and Facebook.
Write a Story Based on These Prompts or This Article!
Use the above prompts or article as inspiration to write a story or other short piece.