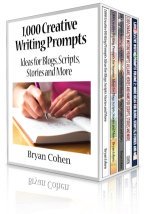 Writer's block stinks. Beat it forever for just $8.99
For the first time ever, you can get my ultimate collection of 5,000 creative writing prompts for over 25% off. The
1,000 Creative Writing Prompts Box Set
contains five books with over 150 five-star reviews.
Click the links below to get it before this deal runs out!
Amazon ->
http://bit.ly/noblockazon
Nook ->
http://bit.ly/noblocknook
Apple ->
http://bit.ly/noblockapple
Google Play ->
http://bit.ly/noblockgoogle
Labor Day Writing Prompts #4

Here are 10 Labor Day writing prompts you can use to ring in the holiday with your classroom or your own personal journal. If you enjoyed these prompts, buy the entire collection of
1,000 Writing Prompts for Holidays
on Amazon.
31. What are some of the reasons that you would need to get a job? What are some of the things you might have to sacrifice in order to be able to work at the job and why?
32. When you go to a job interview, you often bring a list of all the successful things you've done to that point called a resume. What would go on your job resume right now? Do you think a potential employer would be impressed with your resume? Why or why not?
33. Imagine that you could create a job for yourself out of thin air. Someone would pay you to do exactly what you want to do for the rest of your life. What would you be doing at this job and why would you choose to do that?
34. While many full-time jobs now come with paid vacation and health insurance coverage, in the past employers gave workers little-to-no benefits other than a pay check. Why do you think companies didn't give their workers health coverage and other benefits? Why do you think that has changed in the modern world?
35. How much would you enjoy or not enjoy the following jobs: video game tester, astronaut, sports coach, gardener, and bike messenger? Explain why you would or wouldn't enjoy them.
36. What do you think would be the easiest job to do in the world and why? What would be the most difficult job in the world and why?
37. Do you think you'd enjoy having the same job as any members of your family? Why or why not? If not, do you think you'd be willing to do a job you didn't like to take care of your family?
38. What are some jobs that you think would make the lowest amount of money? Why do you think they earn the least? What are some jobs that would earn the highest? Why do you think they earn the most?
39. One job that earns a considerable salary is being a professional sports player. What do you think it would be like to be a pro athlete? What do you think your chances would be of making the big time and why?
40. You have been given the opportunity to try out five different jobs anywhere in the world on Labor Day. What jobs would you choose to test out and why? Which do you think you'd enjoy the most and why?
Did you enjoy these holiday writing prompts? Buy a book full of holiday writing prompts today!
Done with Labor Day? Go back to Holiday Writing Prompts.
Related Articles to Holiday Writing Prompts
Related Products
comments powered by
Written by Bryan Cohen
Bryan Cohen is the author of more than 30 books, many of which focus on creative writing and blasting through that pesky writer's block. His books have sold more than 20,000 copies. You can find him on Google+ and Facebook.
Write a Story Based on These Prompts or This Article!
Use the above prompts or article as inspiration to write a story or other short piece.