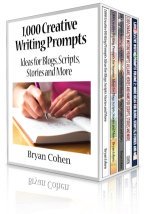 Writer's block stinks. Beat it forever for just $8.99
For the first time ever, you can get my ultimate collection of 5,000 creative writing prompts for over 25% off. The
1,000 Creative Writing Prompts Box Set
contains five books with over 150 five-star reviews.
Click the links below to get it before this deal runs out!
Amazon ->
http://bit.ly/noblockazon
Nook ->
http://bit.ly/noblocknook
Apple ->
http://bit.ly/noblockapple
Google Play ->
http://bit.ly/noblockgoogle
The moon in the waves.
It was the first summer I was allowed out after dark on my own. I was about 16 and kind of shy. my family owned a small house by the shore and after week I finally (timidly) headed out to the beach on my own. I was never comfortable in my swimsuit. I mean I look alright and everything. I'm kind of thin and not too short. But I don't look like a supermodel. Still I didn't like to show a lot of skin. So I always wore a cover up. Long sleeved pull over and a wrap around skirt. Sometimes I was so shy about my red and silver one piece I never even made it to the water. But this was different. The sun was setting and no one was around so I only wore my sheer scarf. It was long and more like a shawl. I listened as the waves pounded softly to the rocks. A soft rhythmic "woosh swoosh" and the sun staining the water red then pink then gold. With the smallest flash of green it disappeared altogether and there was nothing to see. That was when I grew more aware of my surroundings. The salt tang of the air, the soft breeze. Always off that water. It smelled like far away places. Cool and refreshing. Not like the day when you could smell five or six barbeques. Or the forty people at the beach with plastic beach balls. Sweat and dogs and seaweed and that slight brine. And the seagulls always the seagulls squawking and screaming. I can't bear those things. But now all I could hear was the beach itself. "woosh swoosh, woosh swoosh" I paused and faced the water as the moon slowly climbed up into the sky. From there she shone down into the water. That moon. That deep full moon. Not the one in the sky. I had seen that one every night for 16 years. Always outside my window here at the beach or out in the city. But that large moon in the waves. It was distorted and serene and the most beautiful thing. The wave tips were silver and they were off beat. One wave flowed in separate from another. It the hustle and bustle of the daylight it looked like the waves, these same waves were racing. But here in the moonlight it was more serene. More purposeful. They were not racing, but dancing. One was supposed to go before the other. To the shore and back again. All with that huge moon watching. It was absolutely perfect.
Join in and write your own page! It's easy to do. How? Simply click here to return to New SBI C2.0 Invite.
Write a Story Based on These Prompts or This Article!
Use the above prompts or article as inspiration to write a story or other short piece.
What Other Visitors Have Said
Click below to see contributions from other visitors to this page...

My favourite childhood toy Not rated yet
When i was only five years old.i have a beautiful car.it has red and white colour.i ride it outside my house. i liked it very much ,one day i was in my …
There is no life without moves Not rated yet
I think movies and TV is an essential part of my life and it is hard to imagine life without movies, on one hand movies are a great source of entertainment …