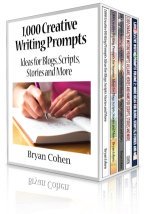 Writer's block stinks. Beat it forever for just $8.99
For the first time ever, you can get my ultimate collection of 5,000 creative writing prompts for over 25% off. The
1,000 Creative Writing Prompts Box Set
contains five books with over 150 five-star reviews.
Click the links below to get it before this deal runs out!
Amazon ->
http://bit.ly/noblockazon
Nook ->
http://bit.ly/noblocknook
Apple ->
http://bit.ly/noblockapple
Google Play ->
http://bit.ly/noblockgoogle
the new iphone
I want to invent the new iphone 6. you can make phone calls anywhere! no Wi-Fi needed for any apps or making phone calls or texting or anything! the app store will have any app that you type in. ANYTHING!!! it would be 900$ with no tax. I know that it cost a lot but its definitely worth it!! you will love it!!new cases and more! anything that you want for an iphone will be right here! it will come in all different colors and u can hold your apps in as many rows as you want to! Facebook or twitter? UPDADTED!!! instagram or tumblr? UPDADTED!!! Pandora?? oh yea free anywhere you want it!!! no Wi-Fi even needed!!oh and want to jail break you phone but its too much money? well on the iphone 6 its free!!!! then u decide u want to unjail break it? just look it up on Google we made a new website that will help! when you type lasers come up in any color that you want!!! it will be featured on TV. and everything!! it will be out in stores on December 1st 2012!!! its 900$ because u get free internet anywhere you go!!! its only 50$ a month!!! its amazing!!! if u would like to buy one now u should!!! if u call now u get 2 free cases and ill throw in 3 cleaners, 5 pens in any color you want, and 10 screen protectors!!! so call now and your phone will be sent to you on December 1st 2012!!! your iphone 6 is waiting please call 1-800-Iphone6Services
Join in and write your own page! It's easy to do. How? Simply click here to return to Free Creative Writing Prompts #1.
Write a Story Based on These Prompts or This Article!
Use the above prompts or article as inspiration to write a story or other short piece.
What Other Visitors Have Said
Click below to see contributions from other visitors to this page...

My favourite childhood toy Not rated yet
When i was only five years old.i have a beautiful car.it has red and white colour.i ride it outside my house. i liked it very much ,one day i was in my …
There is no life without moves Not rated yet
I think movies and TV is an essential part of my life and it is hard to imagine life without movies, on one hand movies are a great source of entertainment …