The Day Ginger Died (18)
by Jeanne Clarke
(Baltimore, Md.)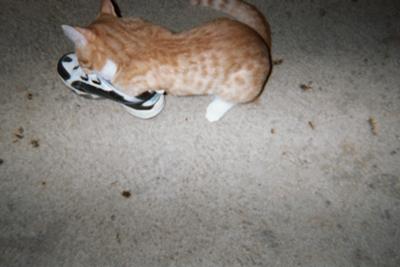 My Ginger



I'm not a crier. In fact, crying irritates me when I hear it. Which is kind of sad, since my daughter cries frequently over just about everything. I didn't even cry when my father died, or when my mother died seven years ago. But when my beloved cat, Ginger, died in my arms over two years ago, I cried for a week.

I had Ginger since he was a six week old kitten - an orange tabby, scampy little kitten. One of four, his mother was the mouser for a Bail Bondsman. His father, an unemployed lazy alley cat. We needed a kitten because - well, because I've always had a cat. The only reason we didn't have one was because our last one had passed away, we moved, and hadn't had a chance to get one.

Ginger arrived home with me via the bus and the light rail, his little head bobbing up and down in my tote bag. A curious little fellow from the start, he explored the whole place and then fell asleep. I ran out to get a litter box, litter, and the best kitten wet food I could find. "Ginger" was his nickname; his full name was Gingerbread due to his coloring. But I always called him mittens because he had the cutest white boots and mittens for paws.


For seven and a half years Ginger was my constant companion. Each morning he snuggled in my lap while I saw at my computer, often sharing a pastry with me. He slept with me each night and followed me around like a shadow. When he was nearly eight, he had a stroke. An animal cardiologist gave him medications, and I massaged his rear legs until he could move them again. With care and love, he was able to overcome the back leg paralysis and run about again. I had four extra months with my buddy. Then, one evening, he had a series of strokes which once again paralyzed him, worse this time. I took him back to the vet. She gave him stronger medication. I tried, but the next night, as I was holding him, he convulsed, and I held him tighter, and then he was dead. For nearly an hour I just held on to him, kissing him, crying...then I carried him around to my children and husband for a final kiss, then laid him down.


I cried steadily for a week, each night in the shower. His ashes are in a wooden box which will be buried with me. And we have a rescue cat now, Rook, who came to us three days after Ginger's death. An addition to the family, not a replacement.


For my Ginger was one of a kind.