Why Do Some Authors
Do Better Than Others?
A Guest Post by Mary Martinez

Thank you, Bryan, for hosting me on your blog. You told me to post whatever… And I took you at your word. Yes, I have the first book of a new series out, and I've been telling everyone who will listen all about it. So I'm a bit sick of that, not the book or the series, just the telling of it.
I have many writer friends—go figure—but that's not what this post is going to be about. It's about a burning question I've had for some time now. Almost since before, I began to write.
Everyone who writes a book wants it to have a book to hold in their hand, or read it on kindle as the new age dictates, in other words published and most of us want it to be well received—which means sales. So my burning question is this:
Why do some authors—whether traditional or indie published—do better than others? Why does one sell 25 books to the other's 140,000 books?
I'm not talking when you compare a book poorly written with a Nora Roberts book. I know several great authors and some do very well while others barely make a sale. Again, I'm not talking two totally separate genres.
Let's break it down, take two romantic suspense authors, their books well written and both promote on all the social media, blogs, web sites, etc. Same publisher—let's take out all the variables and make them identical. I know this happens, just ask around.
So why does Lizzie Joe do better than Betty Sue?
Now this is where you expect me to have this big revelation about how and why one does better than the other. Guess what, I don't. I am completely clueless. The answer to this question is almost as elusive as finding the holy grail of publishing. If you can actually give us the answer, then you'll most likely be the next NY Times long running best seller of the publishing world.
Is it the book cover that hooks the reader? Is it the blurb? Is it that for Lizzie Joe the planets are all in alignment, did she click her heals together three times and then repeat "I want to be a best seller" and all in the right order when her book released? Please comment with your opinion.
And now the moment I've been waiting for, yeah I lied I'm not sick of telling everyone about my new series!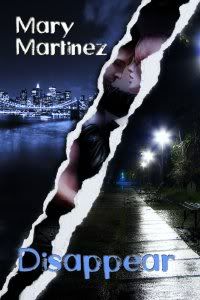 The Becket Series
Trailer: http://www.youtube.com/watch?v=2C5UVaEEG60
(View full screen for best viewing)
The Beckett's have arrived and nothing will ever be the same! The Beckett's have a strong sense of family and honor. When one of their own is threatened, their bond is as strong as a badge of steel.
Disappear (Book I)Available Now in eBook
Kindle
Nook
Smashwords
Print May 2012
After two years undercover as an FBI agent to infiltrate a crime organization and discover the identity of a hit man, Tyler Beckett's cover is blown. Tyler's new assignment is to protect the only witness who can identify the mysterious killer. If only he didn't find her so attractive. Each day it becomes harder to keep his objective, especially since he knows the interest is mutual.
Keira Cavanaugh is the only witness to a hit ordered by a crime boss. The safe house is compromised and the same hit man shoots Tyler. Fearing Tyler is dead, Keira plans revenge on the crime organization. She must fake her own suicide in order to survive.
When Tyler discovers what Keira plans, he realizes he must stop her before he loses her for good.
Web site: www.marymartinez.com
Blog: http://marysbooksblogger.blogspot.com/
Twitter: https://twitter.com/#!/marylmartinez
Facebook: http://www.facebook.com/mlmartinez33
Goodreads: http://www.goodreads.com/author/show/1646623.Mary_Martinez
Announce only newsletter: http://groups.yahoo.com/group/Marys_Books_and_Such/
Do you want to win a kindle? Find out how!
Thank you for coming to visit today!


Done with Why Do Some Authors Do Better? Go back to the Home Page